Fri Jan 21 2011
It has been only one week since Zine El Abidine Ben Ali stepped down as Tunisia's president, ending 24 years of dictatorial rule, and the next chapter for the country has yet to be written. But it already looks like some of the hoped-for changes are beginning to crystallize, particularly in terms of freedom of expression. As we reported earlier this week, the Tunisian revolt was unique not...
Thu Jan 20 2011
This week, the BBC and Public Radio International's "The World" featured CyberDissidents.org's Saudi Women's Grand Prix. The program focused on Saudi Arabia's repression of women and our petition to King Abdullah asking him to co-sponsor the first ever Saudi Women's Grand Prix. Concerned citizens from dozens of countries have signed the petition and we hope you do as well. Audio of...
By: Ahed Al Hendi
Tue Jan 18 2011
Extraordinary events are taking place in Tunisia as this piece is going live. Several days ago, protests across the country forced a seemingly immovable authoritarian regime out of power and the country is now in the midst of deciding what sort of government Tunisians will form after years of dictatorship. The new political landscape is an opportunity for Tunisians to create a government that...
By: Ahed Al Hendi
Tue Jan 18 2011
Many in Tunisia and in the Arab world, including myself, were outraged by how little coverage American news outlets, think tanks, and organizations devoted to the bloodshed during the protests. The forces of the ex-president killed more than 60 peaceful citizens, but few news conglomerates in the West paid attention. In contrast, the number of headlines devoted to the Iranian Presidential...
By: Jamal Dajani, Huffington Post
Tue Jan 18 2011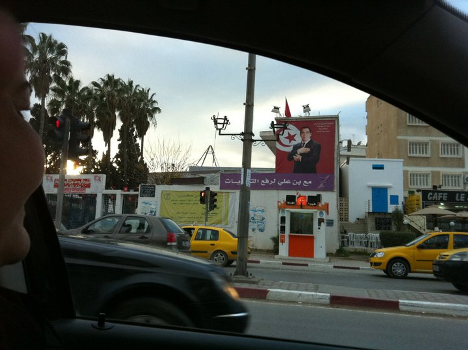 I arrived in Tunis on January 1, only a few days after a wave of rallies had erupted due to the suicide of an unemployed college graduate, who torched himself after police confiscated his fruit cart, cutting off his only source of income. Mohammed Bouazizi, 26, sold fruit and vegetables without the necessary vendor's permit in the town of Sidi Bouzid, located 160 miles from the country's capital...